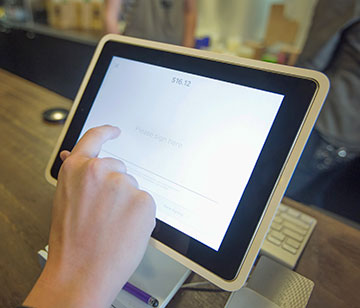 Power payments with the best in point-of-sale devices
People's United Merchant Services offers point-of-sale (POS) choice—from the best in stand-alone terminals to integrated point-of-sale (POS) systems. Terminals from leading device providers to POS systems from more than 800 integrated software vendors give you the latest in acceptance including chip cards.
---
Accept payments from all kinds of people
It takes every kind of people to make your business grow. Your payment options should be as diverse. People's United Merchant Services offers that kind of choice. Accept all kinds of card, mobile and gift card payments from customers on the go.
Credit card processing
Accept all of the major card brands including Visa®, MasterCard® and Discover®
Mobile payments processing
More customers expect convenience through payments made through their smartphones. Start accepting those Android and Apple device payments today.
Gift card processing
Unwrap a present for your business. Branded gift cards made just for you. Encourage and reward loyalty. Drive more repeat business.
---
Safer, more secure acceptance—OmniShield Assure
More people's payments should come with more security assurance too. OmniShield Assure helps you defend your business and your customers from the biggest fraud and data security risks. Chip card acceptance helps fight fraudulent cards at the counter. Encryption helps safeguard card data in transit. And PCI compliance and breach assistance programs help you stay on top of security needs and events.
---
Wrapped in a blanket of customer service
Better in-store payments should come with intelligent reporting (iQ page) to help you run your business, as well as support when you need it. iQ, a smart small business credit card processing reporting tool, is designed to help you manage your business with both big picture and customer-level detail in mind. And, we'll always be on-call, with both self-service and representative support available.